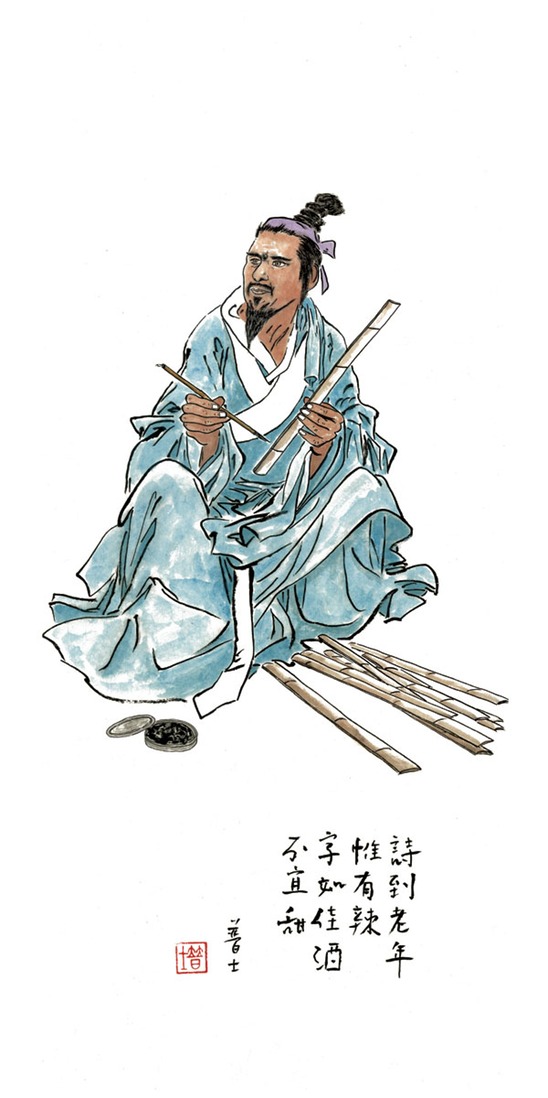 "The Intellectual"
                                   "A poem must be aged to become exciting.
                  Calligraphy, just like fine wine is better without being too sweet."
                               Thoughts For The Day
          "The foolish run, the clever wait, the wise go into the garden."

                                                                                                     Rabindranath Tagore
          "Failure is not falling down but refusing yo get up."

                                                                                                     Chinese Proverb
 "A meaningful silence is always better than meaningless words."

                                                                                                     Unknown
  "Believe in yourself even when no else does. If someone tells you that you can't do it, prove them wrong."

                                                                                                     Unknown
  "Sometimes the best revenge is to ignore them and be super happy instead."

                                                                                                     Unknown
  "If "Plan A" didn't work, the alphabet has 25 more letters! Stay cool."

                                                                                                     Unknown
  "Never be afraid to try something new. Remember, amateurs built the ark. Professionals built the Titanic."
                                                                                                     Unknown
  "You can't buy happiness but you can buy cupcakes, and that's kind of the same thing."

                                                                                                     Unknown
           "Simpliciy is the ultimate form of sophistication."

                                                                                                     Leonardo da Vinci
  "You can tell how smart somebody is by what they laugh at."

                                                                                                     Tina Fey
          "The quieter you become the more you can hear."

                                                                                                     Ram Dass
       "Here's to the crazy ones, the misfits, the rebels, the troublemakers, the round pegs in the square holes because the people who are crazy enough to think that they can change the world, are the ones who do."
                                                                                                     Steve Jobs            
          "Better to light a candle than to curse the darkness."

                                                                                                     Chinese proverb
      "To succeed in life you need three things: a wishbone, a backbone, and a funny bone."
                                                                                                     Reba McEntire
  "Successful people never worry about what others are doing."

                                                                                                     Unknown
     "The awkward moment when your sarcasm is so advanced that people actually think you are stupid."

                                                                                                     Unknown
     "You can never make the same mistake twice, because the second time you make it, it's not  mistake, it's a choice."

                                                                                                     Unknown
 "The word LISTEN contains the same letters as the word SILENT."
                                                                                                     Unknown
               "Mistakes are proof that you are trying."

                                                                                                     Unknown
 "Remember that guy who gave up? Neither does anyone else."

                                                                                                     Unknown
 "No matter how many mistakes you make or how slowly you progress, you are still way ahead of everyone who isn't trying."

                                                                                                     Unknown
 "No one ever injured their eyesight by looking on the bright side of things."
                                                                                                     Unknown
             "A balanced diet is chocolate in both hands."

                                                                                                     Unknown
 "When you look at a field of dandelions, you can either see a hundred weeds or a hundred wishes."

                                                                                                     Unknown
 Don't say "There's still time" or "Maybe next time" because there's also the concept of "It's too late"."

                                                                                                     Unknown
 "The number one reason why people give up so fast is because they tend to look at how far they still have to go, instead of how far they have gotten."

                                                                                                     Unknown
   "Never look down on someone unless you're helping them up."

                                                                                                     Jesse James
 "Don't worry about what others think…. Most people don't use their brain very often."
                                                                                                     Venkat Desireddy
 "Sometimes when things are falling apart, they may actually be falling into place."

                                                                                                     Unknown
    "Do something today that your future self will thank you for."

                                                                                                     Unknown
 "It's better to cross the line and suffer the consequences than to just stare at the line for the rest of your life."

                                                                                                     Unknown
 "If you want to feel rich just count all the things you have that money cannot buy."

                                                                                                     Unknown
 "Procrastination (verb) - what you are probably doing right now."

                                                                                                     Unknown
            "Dear Optimist, Pessimist and Realist,
While you guys were busy arguing about the glass of water, I drank it!"

                                                                                        Sincerely, The Opportunist
            "If you can't figure out your purpose, figure out your passion. For your passion will lead you right into your purpose."

                                                                                                     T.D. Jakes
            "If you don't make the time to work on creating the life you want, you're eventually going to be forced to spend a lot of time dealing with a life you don't want."

                                                                                                     Kevin Ngo
            "Your time is limited. Don't waste it by living someone      else's life."

                                                                                                     Steve Jobs
            "Sometimes silence is a really good answer."

                                                                                                     Unknown
               "Your best teacher is your last mistake."

                                                                                                     Unknown
       "Whatever doesn't kill me… had better start running."

                                                                                                     Unknown
   "If you never chase your dreams you will never catch them."

                                                                                                     Unknown
   "Of course I talk to myself. Sometimes I need expert advice."

                                                                                                     Unknown
  "It is nice to be important. But it is more important to be nice!"

                                                                                                     Unknown
"Good things come to those who wait. But better things come to those who work for it."

                                                                                                     Unknown
            "If you don't want anyone to find out, don't do it."

                                                                                                     Chinese Proverb
"I never realized how funny I was until I started talking to myself."

                                                                                                     Unknown

"A pessimist sees the difficulty in every opportunity; an optimist sees opportunity in every difficulty."
                                                                                                     Winston Churchill
"Sometimes I pretend to be normal, but then it gets boring, so I go back to being me."
                                                                                                     Unknown
              "Life begins at the end of your comfort zone."
                                                                                                     Unknown
                  "If nothing goes right… try going left!"
                                                                                                     Unknown
"The most important decision you make is to be in a good mood."
                                                                                                     Voltaire
"The only way to succeed is to not worry about what anyone else is doing."
                                                                                                     Unknown
        "Thinking is difficult, that's why most people judge."
                                                                                                     Carl Jung
"We should always remind ourselves that counting mileposts as they pass is not usually the reason for the trip."
                                                                                                     Sensei Kim Taylor
"Take risks. If you win, you will be happy. If you lose, you will be wise."
                                                                                                     Unknown
"Success seems to be connected with action. Successful people keep moving. They make mistakes, but they don't quit."
                                                                                                     Conrad Hilton
   "If you smile when no one else is around, you really mean it."
                                                                                                     Andy Rooney
"The size of your problems is nothing compared with your ability to solve them. Don't overestimate your problems, and underestimate yourself."
                                                                                                     Unknown
"People seem to think that evolution is something that happened in the past. Evolution is still going on, For some of us, anyway."
                                                                                                     Unknown
"Good things don't come to those who wait. They come to those who work their asses off and never give up."
                                                                                                     Unknown
"Whatever you do always give 100%, unless you are donating blood."
                                                                                                     Unknown
"When people ask dumb questions, I feel obligated to give sarcastic answers."
                                                                                                     Unknown
"The best revenge is happiness, because nothing drives people more crazy than seeing someone actually living a good life."
                                                                                                     Unknown
                 "Not all those who wander are lost."
                                                                                                     J.R.R. Tolkien
    "Someday you will be old enough to start reading fairy tales again."
                                                                                                     C.S.Lewis
               "In the middle of difficulty lies opportunity."
                                                                                                     Albert Einstein
     "Logic will get you from A to B. Imagination will take you              anywhere."
                                                                                                     Albert Einstein
      "Happiness in intelligent people is the rarest thing I know."
                                                                                                     Hemingway
                                "If you rest, you rust."
                                                                                                     Bruce Young
                "I may not be perfect but I'm always me!!"
                                                                                                     Unknown
"It is impossible to live without failing at something, unless you live so cautiously that you might as well not have lived at all - in which case, you fail by default."
                                                                                                     J.K. Rowling
    "Think of all the beauty still left around you and be happy."
                                                                                                     Anne Frank
  "To live a creative life we must loose our fear of being wrong."
                                                                                                     Unknown
               "You are never too old to set another goal or to dream a new dream."
                                                                                                     C.S.Lewis
                  "Mistakes are the portals of discovery."
                                                                                                     James Joyce
               "The only thing worse than being blind is having sight and no vision."
                                                                                                     Unknown
         "Mistakes are the usual bridge between inexperience                 and wisdom."
                                                                                                     Phyllis Theroux     
               "Go out on a limb, that is where the fruit is."
                                                                                                     Jimmy Carter
         "Time is the perception of the change of events."
                                                                                                     Bruce Young    
"I believe there's an inner power that makes winners and losers, and the winners are the ones who really listen to the truth of their hearts."
                                                                                                     Sylvester Stallone
            "In the middle of difficulty lies opportunity."
                                                                                                     Albert Einstein
            "It always seems impossible until it's done."
                                                                                                     Nelson Mandela
"It may seem difficult at first, but everything is difficult at first."
                                                                                                     Miyamoto Musashi
"True leaders don't create followers, they create more leaders."
                                                                                                     Unknown
"It takes a hundred times to remember the moves, a thousand times to make them beautiful, and ten thousand times to grasp their essence."
                                                                                                     Unknown
                    "Your mind is your best weapon."
                                                                                                     Unknown
    "A teacher is a student who teaches to continue his study."
                                                                                           Mochizuki Minoru Sensei
"Bowing is an expression of gratitude and respect. In effect, you are thanking your opponent for giving you the opportunity to improve your technique."
                                                                                                     Jigoro Kono
         "Nurture the ability to perceive truth in all matters"
                                                                                                     Miyamoto Musashi
"If it can be solved, there's no need to worry, and if it can't be solved, worry is of no use"
                                                                                                     14th Dalai Lama
               "You can only fight the way you practice"
                                                                                            Miyamoto Musashi
              "If you can't do it slow, you can't do it fast."
                                                                                                     Unknown
"Some people are old at 18 and some are young at 90…time is a concept that humans created."
                                                                                                     Yoko Ono
"Do not correct a fool, or he will hate you. Correct a wise man, and he will appreciate you."
                                                                                                     Unknown
"Do the best you can until you know better. Then when you know better, do better."
                                                                                                     Maya Angelou
"If you always do what you always did, you will always get what you always got"
                                                                                                     Albert Einstein
"If you can't explain it simply, you don't understand it well enough"
                                                                                                     Albert Einstein
"There are some people who think that they're using their own version of theiyr're correctly!"
                                                                                                     Bruce Young
                   "Art is that which can be appreciated."
                                                                                                    Bruce Young
"The measure of time to your next goal is the measure of your discipline."
                                                                                                    Unknown
             "You have to see more than what you look at."
                                                                                                    Unknown
         "Everything has beauty, but not everyone can see it."
                                                                                                    Confucius
 "The mouth of a man is often more dangerous than the       mouth of a tiger."
                                                                                                    Chinese proverb
             "There are no fish in this pond, are there?..."
                                                                                                    Samantha Carter 
"Don't think too much. You'll create a problem that wasn't even there in the first place."
                                                                                                    Unknown